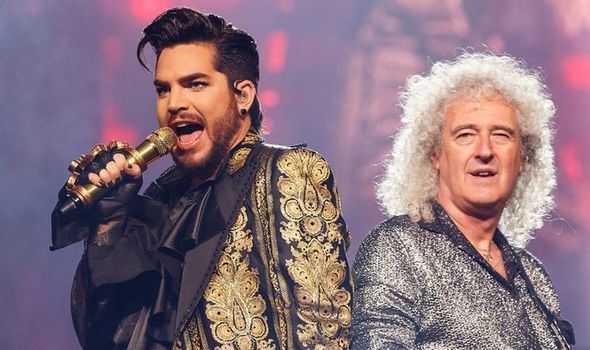 Like the British head of state, the rock heroes of the 70s and 80s named after him are not thinking of abdicating.
On the contrary: since the Oscar-winning biopic "Bohemian Rhapsody" Queen has experienced a real renaissance and conquered a whole new audience. With good reason, according to her tour guest singer Adam Lambert: "Freddie Mercury was way ahead of his time."
Since 2011 the San Diego-based singer has been touring the world with Brian May and Roger Taylor. For the 38-year-old it is still an artistic challenge to follow in the footsteps of his idol Freddie Mercury and sing his songs every night. He does this with great enthusiasm, because he feels more and more comfortable in his role and has found his own approach to the songs – whereby, according to his own statement, he has learned a lot.
Incidentally, the lucrative part-time job hasn't put a damper on his solo career: Not only did Lambert release his fourth solo album "Velvet" in March, he is also celebrating success as an actor and TV personality. His new album was influenced by his work with Queen, who in turn recently released the album "Live Around The World" together with him – and plan to tour Germany again in 2021
Question: Adam, you've been touring with Brian and Roger for nine years. Why did you only have a tiny supporting role in the Biopic "Bohemian Rhapsody"?
Adam Lambert: You only asked me when the filming was already in full swing and I was rehearsing with Brian and Roger. I think they had asked the director to put me in there – as a little gag. Bryan Singer then said "Listen, we've got this scene coming up." The one where Freddie calls home from a rest stop and meets this trucker who gives him a strange look before he disappears into the toilet. Freddie follows him there – the rest happens by itself. Anyway, Bryan says to him, "Would you like to be the trucker?" And I said, "That sounds like fun." (laughs) It was a lot of fun.
Q: Were you disappointed they didn't offer you the part of Freddie?
Lambert: It wouldn't have made sense, simply because I sing in the current formation of the band and we constantly stress that I am not a Freddie impersonator, but an independent artist. I mean, I perform as Adam Lambert and I don't dress up as Freddie. So it would have been weird if I had done that in the film. Not to mention the fact that I'm not an accomplished actor like Rami Malek – and I don't look anything like Freddie.
Q: Would teeth have been a problem?
Lambert: (laughs) A very big one. But the film is extraordinary. It brings Queen's music back to life, has mobilized the fan base and has brought the band enormous popularity. I mean, the tour we did last summer in the USA sold out in a few minutes. Nobody expected that … It was the biggest stadiums and arenas since the early 80s. And Freddie was still alive then.