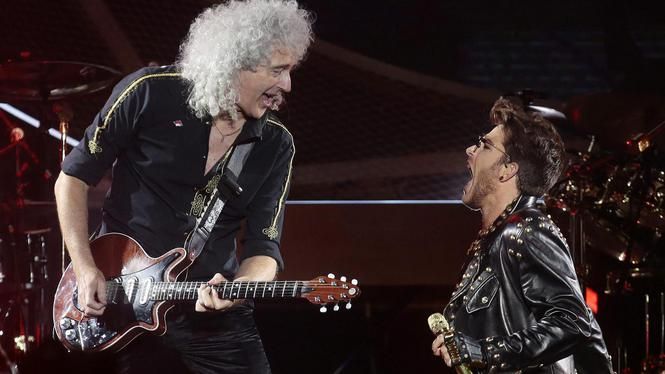 Queen and Adam Lambert are set to rock you in Vegas this fall.
The surviving members of the legendary rock band and American Idol's Lambert announced Monday that they will be tearing up the Las Vegas strip together in September with a 10-date limited engagement named "The Crown Jewels." The sure-to-be flamboyant shows will take place at Park Theater at the MGM in Las Vegas starting on Sept. 1 and running through Sept. 22 (with shows on Sept. 1, 2, 5, 7, 8, 14, 15, 19, 21, and 22).
The classic rockers and Lambert first took to the stage together back in May 2009 when they performed together during the American Idol finale. (Lambert was a contestant on that season of the competitive singing show.) Since that first collaboration, the double act has played more than 150 shows all around the world in stadiums. "I'm so excited to help share 'The Crown Jewels' with the Strip," said Lambert in a statement. "You'll be humming them all night!"
Tickets go on sale on Friday at 7 a.m. ET at ticketmaster.com, though member of Lambert's and Queen's fan clubs will have access to a pre-sale on Tuesday.